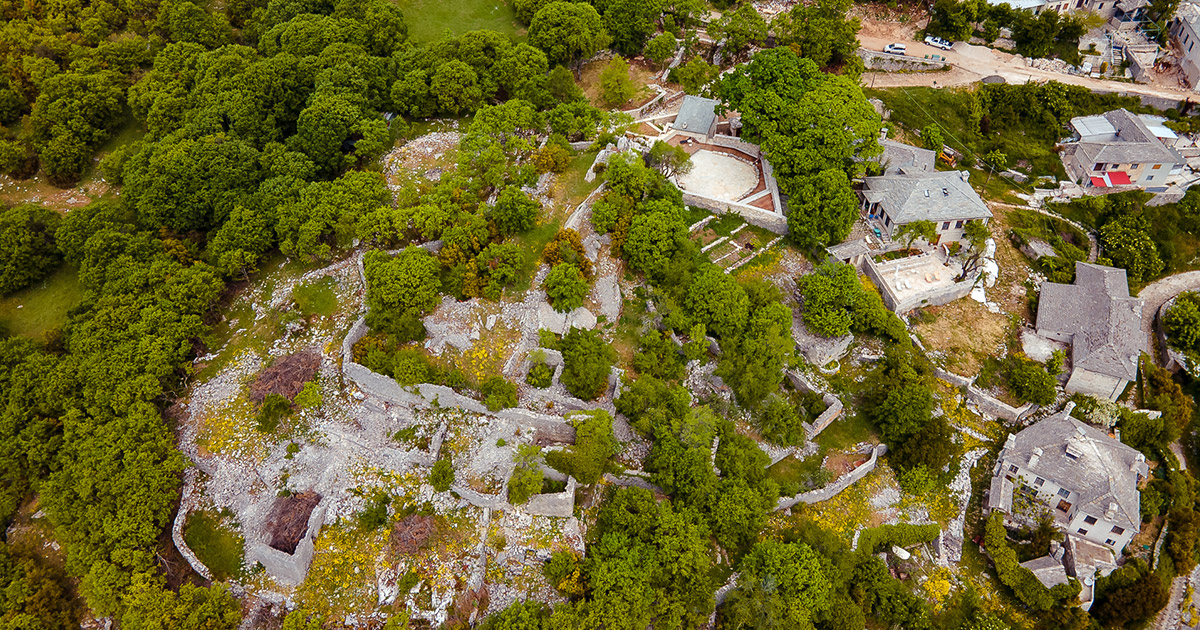 The land beyond is a civil society organisation which has been active since 2010 organizing and hosting a combination of mental, physical and interactive activities.
The land beyond is located on an altitude of 1.035 metres in Ano Vitsa, a traditional settlement, one of the most representative and accessible villages in Zagori (46) with a unique historical, cultural and ecological interest, in the heart of the National Park of Northern Pindos – one of the biggest national parks of Greece, globally recognised and authentic.
The land beyond was built on the grounds of inherited property. The infrastructure dates back to 1750-188 and it includes the main house, the threshing floor for grain production, the stable or food storage for the cows, cattle and horses, a stone-shed as a shelter for the animals, an underground cellar, two cisterns which collected rainwater and many acres of field for harvesting and agriculture. Along with the outbreak of WWII, the family left the village in pursuit of a better future in the bigger cities of Ioannina and Athens.
During the 2010s, the previously abandoned property was renovated by Nikos D. Giannis. In 2012 the main house was rebuilt. Between 2014 and 2016, the stone-shed was turned into three autonomous bedrooms for visitors and the room next to shed was turned into a conference/ home-theatre/ living room. A small kitchen was built and a fourth room was added on the ground-floor of the main house. The two cisterns were restored and they are once again functioning properly as a water-channelling system collecting rainwater.
In 2018, construction was completed in the stables which is now used as a Knowledge Hub housing a huge collection of books in its library and a studying space with computers for reading, learning and research. In 2020, construction in the threshing floor was completed and turned into an amphitheatre maintaining the original shape of the threshing floor. 2020 is also the first year since the property was abandoned that the land was harvested and the first tomatoes and onions were planted in the premises.
To the property, there has been recently added the Dano's Mansion (Arhontiko Danou), a monument proclaimed by the Ministry of Culture, as "one of the masterpieces of traditional architecture in Zagori". The mansion will operate as a World Mountain Youth Center.
Today the 7th generation of Giannis family is aiming at developing communities of interests and practices in the land beyond.
The land beyond is an organisation, an idea, a place, a time, a way of life. It is the land beyond the mountains (zagora in slavic), in Epirus - a place of generosity, inspiration, balance, beneficence and learning. Ecumenical values, mutual understanding, pluralism, freedom, participation, conflict prevention and resolution, peace, biodiversity, sustainability of man and of nature, are some of the values and the vision that inspire us.