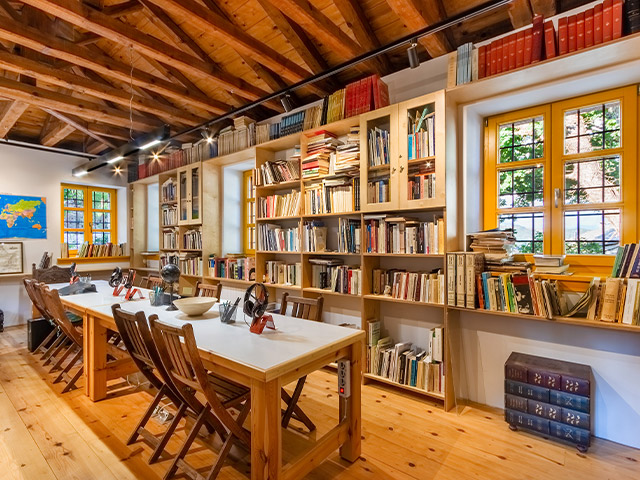 Knowledge Hub
Our values
In the land beyond we share. It is one of our core values. And so the community grows. We especially want to share knowledge. Our library, which we also use, is at the same time a reading room open to all those who love reading and of course those who like writing. It is a place of inspiration and creativity. It is an experiment of voluntary operation of a library-reading room, in the age of the internet and even in the mountains, in the heart of the largest National Park in Greece, that of North Pindos. It is also a meeting place for people with similar interests, good faith and open minds and a thirst for life that goes beyond what we already know, which is greater than knowledge and experience, the unknown that we are constantly trying to conquer. Certainties divide people, diversity unites them.
The name
The land beyond is a place of leverage of knowledge but also of "oligarchic abundance", which is frugality. We gave it the name Fidous Library, because on the same day that the book-sorting process was completed, on the eve of the 15th of August 2019, a snake appeared, on a chair, in the reading room! It seems that the appearance of the akakos snake of the Virgin Mary, on the days of the 15th of August, which offers luck, healing and wisdom -a tradition originating from the Ionian Islands, has found its way to Epirus. The Fidous Library is on the upper floor of the Knowledge Hub -from the entrance to the right.
The simple abundance: a healthy mind, a healthy body
Balance, prudence, foresight, parsimony of natural resources, austerity in spending, in consumption, in expression. The "happy intoxication of the chosen austere life" contains the conscious and gentle bypass from a society of heightened alienation and overconsumption, of stereotypes and pretense. This was the way of life of the teacher and grandfather, Nikos K. Giannis, until the end, who sealed his attitude of benevolence to the University of Ioannina. Abundance is not only associated with our physical condition which needs constant maintenance through exercise in nature, but also with the need to keep the spirit alive, looking forward to knowledge, both as a means and as an end in itself. The balance between indulgence and effort results in quality, essential success, based on knowledge and discipline together.